Using the pavement, road, verge or highway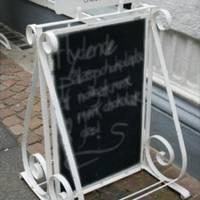 The council can licence part of the highway for trading or pavement cafes.
You can apply at our Pavement Licences webpage.
The council does not however licence the use of any pavement, road, verge or other highway for street displays or advertising signs.
We recognise that a display of goods and advertising signs adds to the sense of vitality on our streets but it is important to make sure that:
Pedestrians can use the street easily and safely, especially those who are sight impaired, elderly, disabled or who have pushchairs or wheelchairs
There is always clear visibility at crossing places and junctions
Footways are clutter free, shops are accessible and essential cleaning and maintenance work can be completed.
We require a minimum footway width of 1.5 metres to be kept clear. Where footways are less than 1.5 metres wide, they must be kept clear at all times. This width is increased to 3 metres at bus stops.
For further information or to make an enquiry, please contact us using the details on this page.

Contacts
---