Volunteer to maintain public rights of way
There are around 60 volunteers working with us across Powys. These volunteers play a vital role in maintaining the county's bridge structures; with between 25-30 new bridges being constructed every year, and repairs carried out on many more.
Apply to volunteer to maintain public right of way Apply to volunteer to maintain public right of way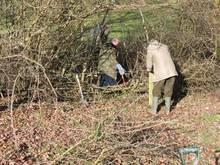 At the start of most jobs, clearance of vegetation is needed. This can be a lot more demanding than the average gardening!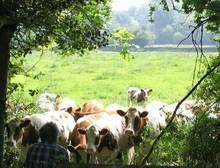 Having cleared the undergrowth from a site, we get some persistent visitors! A volunteer spends his tea break on guard duty.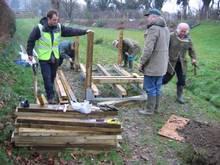 Phil is the Volunteer Co-ordinator and he makes sure that work is produced to high standard and that all volunteers have a safe and enjoyable day.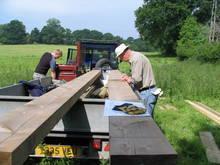 A Welshpool Volunteer marks up 7 metre beams ready for drilling. The beams are for a new footbridge which will provide a valuable link to the Offa's Dyke National Trail.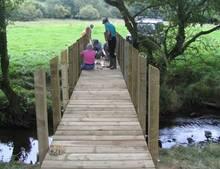 The construction of a bridge requires all hands on deck! Everyone gets involved with plenty of hammering to go around.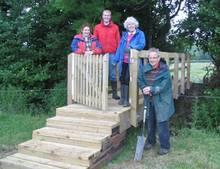 A completed bridge near Churchstoke. Volunteers get a lot of satisfaction from building bridges from scratch and knowing that they have helped to improve access to the countryside in Powys.
In addition to maintaining and building bridges, volunteers also clear vegetation, repair stiles and gates, and survey work on public rights of way.