What goes in your Black wheelie bin - waste you can't recycle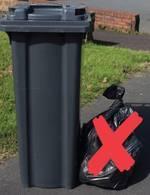 The black wheelie bin is for anything left over that can't go into the recycling boxes or food waste caddy. We no longer provide black sacks.
When putting your wheelie bin out for collection, the lid must always be fully closed. Rubbish that doesn't fit inside the bin or that you leave on the floor next to it will not be taken.
If you often have more recycling than will fit into your containers, you can ask for more recycling boxes.
If you can't accommodate a wheeled bin we will assess the property and will provide you with a roll of 52 purple sacks instead. This is the same capacity as a standard wheeled bin collected every three weeks.
If you are recycling as much as possible, you should have enough space with your wheeled bin or allocation of purple sacks. However, if you still have too much waste and have a standard 180 litre bin, you can ask to swap to a larger 240 litre bin if:
You are a large family consisting of 6 or more people living in the property
You are a family with 2 or more children in nappies
You are a resident who produces non-infectious clinical waste (colostomy bags etc)
You can also buy extra purple sacks for £51.88 per roll of 26 which is to cover the extra collection costs. Call us to order on: 0345 602 7035 or order online.
Ask for more recycling boxes Get new bins or bags Swap to a larger wheelie bin Get new bins or bags Order more purple sacks Get new bins or bags
| | |
| --- | --- |
| | The pdf documents on this page comply with accessibility standards |